About The Cattery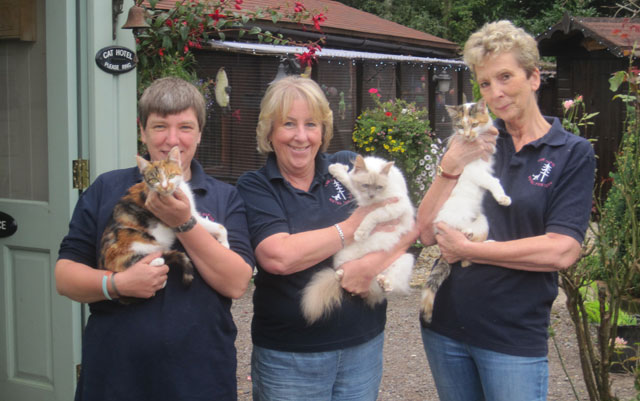 Welcome to the Alpine Cat Hotel for Cats, a unique style of boarding cattery which consists of two large interconnecting purpose built and designed Swiss-style Chalets, in which are situated all the internal suite compartments, some single, some double and some family sized. Each internal section is fitted with a litter tray and a dormitory shelf, reached easily by a ladder.
The internal sections are carpetted and have individual windows and doors. These, together with the personal cat-flaps, afford access to the internal sections of each suite, fully roofed and containing a selection of tree-trunks, logs and spacious lazing shelf. A lovely range of toys is provided for each boarder.
Preventive sneeze-screens have been fitted throughout in all partitions, though these have been designed to allow the feline guests free vision of other suites, thereby avoiding any feeling of loneliness. Music is also provided to make the cats feel at home.
Long-term boarders may be accommodated in specially-designed suites, with extended play areas, etc.
The chalet complex is fully heated. Beds are provided but any cat may bring its own bed, cushion or rug if the owner so wishes. (This is especially advisable if the cat is of a nervous disposition.) The beds provided are fitted with luxurious washable "sheep-skin".
We also have 2 large purpose built family chalets for up to 6 cats (only cats may share from the same family).
All boarders will be fed twice a day, unless the owner requests alternative arrangements; fresh food is on the weekly menu, along with an extensive range of top-brand feeds. Diet foods and Prescribed diets are available by arrangement. A selection of biscuits is fed as a supplement to the main meat/fish courses.
Our hospital, holding four special units, is available for isolation, post and pre-operative cats, or cats whose health conditions require extra care/nursing, or a more restricted boarding area.
All cats must be accompanied by their current inoculation cards, which will be lodged in the reception office for the duration of the cats stay. All cats should be up-to-date with worm and flea treatment.